Velvet Coffee Roasters is proud to donate a portion of all our coffee sales (40c per bag sold) to support 'The Sheldrick Wildlife Trust'. Read about what they do below:
Sheldrick Wildlife Trust – PROJECTS
Born from one family's passion for Kenya and its wilderness
For over 25 years, Kenya-born Dame Daphne Sheldrick lived and worked alongside her husband David Sheldrick in Tsavo East National Park, during which time they raised and successfully rehabilitated many wild species.
Daphne Sheldrick's involvement with wildlife spanned a lifetime, leading her to become an internationally recognised authority on the rearing of wild creatures, having been the first person to have perfected the milk formula and necessary husbandry to successfully raise infant milk-dependent elephants and rhinos. Following the death of her husband in 1977, Daphne founded The David Sheldrick Wildlife Trust in his memory, building this into the global force for conservation that it is today. Now known as Sheldrick Wildlife Trust, Daphne and David's legacy continues under the capable leadership of their daughter, Angela Sheldrick, who has been at the helm of the Trust's operations since 2001.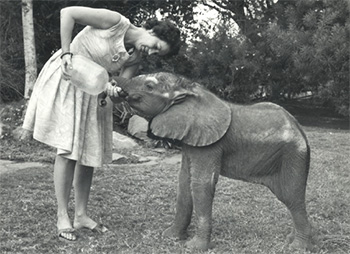 Orphan's Project
The Trust is on call every day of the year, travelling throughout Kenya to rescue orphaned elephants and rhinos left alone with no hope of survival.
Many of the orphans rescued are victims of poaching, human-wildlife conflict and drought and are in a terrible state of emaciation and distress on arrival. Each elephant remains at the Nursery until they are ready to make the journey to one of three Reintegration Units located at Voi, Ithumba and Umani Springs.
This second phase of rehabilitation at these Units proudly sees each elephant orphan's gradual transition back into the wild herds of Tsavo.
Taken at each individual's own pace, which in some cases can take up to ten years, over time the elephants grow to be part a much loved human-elephant family, finally choosing to go wild.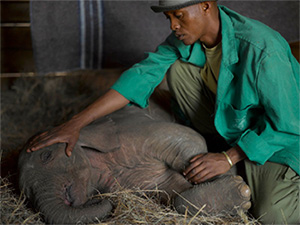 Anti-Poaching
With ivory and rhino horn still highly valued due to an insatiable demand, elephants and rhinos continue to be under threat from poachers, while wildlife of all kinds is at risk of the illegal bushmeat trade.
To combat these devastating activities, the Sheldrick Wildlife Trust operates 12 fully-equipped De-Snaring Teams working together with the Kenya Wildlife Service (KWS) and funds a further De-Snaring Team operated by Mara Elephant Project.
11 of the Sheldrick Trust / KWS De-Snaring Teams are protecting the greater Tsavo Conservation Area covering a vast 60,000km2. With data collected daily from the field, the Sheldrick Trust is also utilising a sophisticated database to capture vital trends relating to wildlife and illegal activities. This data is a valuable indicator of wildlife trends for the KWS, the country and the scientific community as a whole.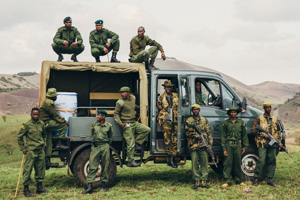 Aerial Surveillance
Supporting the Kenya Wildlife Service in addressing the many challenges facing the Tsavo Conservation Area, the Sheldrick Wildlife Trust's Aerial Unit is dedicated to attending emergency anti-poaching activities, rescue operations and providing veterinary intervention.
The Aerial Unit operates five fix-wing aircraft and two rapid response helicopters, all of which are active in the field throughout the Tsavo ecosystem, as well as within the Lamu District. The combination of active ground teams and 'eyes in the sky' have resulted in many successes in preventing poaching attacks, apprehending poachers and mitigating human-wildlife conflict, whilst saving the lives of many orphaned and injured elephants, as well as other wildlife species threatened by human activity.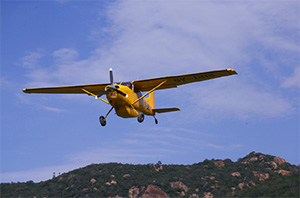 Mobile Veterinary Units
Sheldrick Wildlife Trust operates five fully equipped Mobile Veterinary Units and a Sky Vets initiative, all headed by Kenya Wildlife Service veterinarians.
Based in strategic locations to cover no less than eight National Parks, the five Units alleviate the suffering of injured wild animals on an unprecedented scale, complemented by the Sky Vets initiative which coordinates the air deployment of KWS vets to emergency wildlife cases throughout Kenya.
Since the launch of the Trust's first Mobile Vet Unit in 2003, the teams have attended more than 5,400 wildlife cases, including over 2,450 injured or sick wild elephants, representing more than 7% of Kenya's elephant population.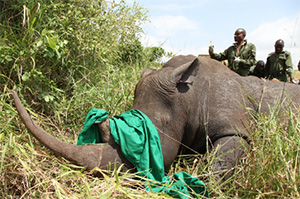 Community Outreach
For over a decade, the Sheldrick has worked to improve the livelihoods and educational standards of people living along the borders of Kenya's National Parks and protected areas through the introduction of community initiatives and local employment.
In an effort to inspire the next generation, on average 63,000 Kenyan school children visit the Orphans' Project at the Nairobi Nursery every year to learn about elephants and their environment.
The Trust also funds up to 70 conservation-based field trips throughout the year where over 2,000 children are able to enjoy Kenya's National Parks free of charge.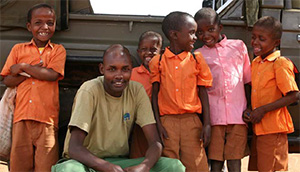 Saving Habitats
In order to protect the future of all wildlife and biodiversity in Kenya, the Sheldrick Wildlife Trust is taking huge steps to safeguard unique and endangered wild habitats by securing public-private partnerships with the Kenya Forest Service and community group ranches.
With projects covering more than 188,000 acres of land, including forests, ancient wildlife corridors and coastal wetlands, measures to preserve these precious eco-systems include erecting fencelines to reduce human incursion into the protected areas, indigenous tree planting to regenerate the local flora and, importantly, empowering communities financially to set aside wildlife areas exclusively for wildlife.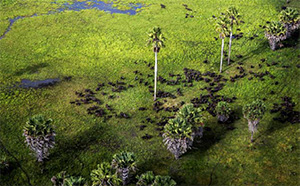 All images copyright © The David Sheldrick Wildlife Trust